Garlic-Almond-Sherry Rice with Saffron
Peter J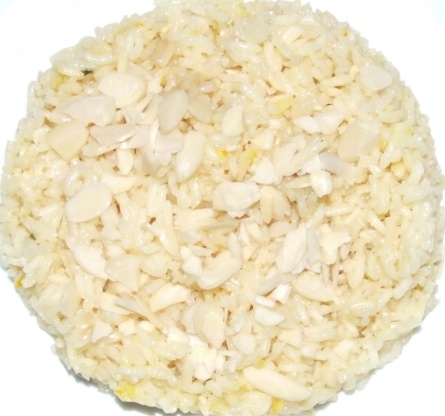 Another EdsGirl creation from La Cocina Angie! Beautiful golden rice is seasoned with garlic, sherry, saffron, and - a touch of almond extract. It's so delicious, and at it's best with a light vegetarian, seafood or chicken entree.

This just sounded absolutely delish and I HAD to make this! Sadly I didn't have any saffron so i substituted Tumeric (let me tell you. .not a bad sub!) and I didn't have any almond slivers but I had whole roasted almonds. This was so delish! I can't wait to make this again with all the correct ingredients on hand! I served this with baked teriyaki chicken and broccoli! What a great meal!
In a heavy saucepan, saute garlic in olive oil until very lightly browned.
Add rice and saute about 3 minutes.
Combine water and sherry; add to rice and garlic in saucepan.
Add almond extract and pinch of saffron.
Bring to a boil, then cover tightly and cook over low heat for 20 minutes.
Season with salt to taste.
To serve, top with toasted almond slivers or slices.