Garides Youvetsi - Shrimp With Feta
jenne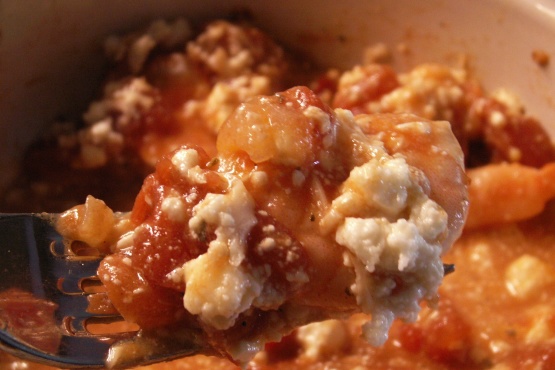 This recipe from Greek With Gusto uses a simple to prepare Greek Tomato Sauce (Saltsa Domata) Optional - Add 1 Tbsp ouzo or brandy to the tomato sauce before spooning it over the shrimp!
Greek Tomato Sauce:.
In a skillet, heat olive oil and sauté onion and garlic until onion is tender. Stir in tomatoes, tomato sauce, wine and ground pepper. Simmer 15 minutes (or longer if a thicker sauce is desired).
Shrimp dish:.
Peel and devein shrimp. Wash, pat dry and sprinkle with lemon juice. Divide shrimp and place into 4 individual casseroles.
(Add optional ouzo or brandy to tomato sauce) Spoon tomato sauce over the shrimp in each dish. Top with crumbled feta, followed by a sprinkling of parmesan.
Bake, uncovered in a preheated 400°F oven for 15 minutes or until the cheese is bubbly.