Gardener's Sweet Corn and Cherry Tomato Salad
jenne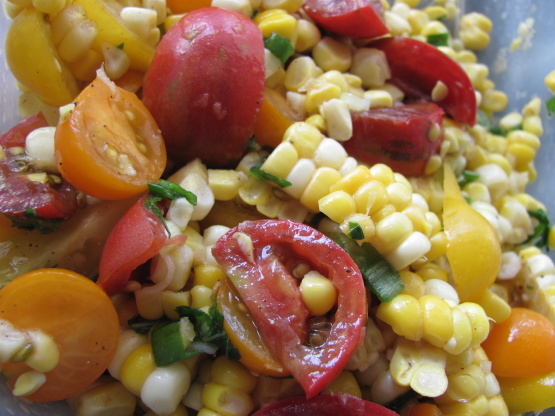 This salad is a celebration of the summer garden- fresh ripe corn, sweet juicy cherry tomatoes still warm from the summer sun, and basil picked from the herb garden. I like Yellow Pear and Sweet Million tomatoes, but use whatever grows well in your garden. This is a very simple recipe that is all about using the best that the summer garden can offer. Second rate ingredients will not produce the same result. If you're reading this in the winter, save it until you can use fresh, local produce! You'll be glad you did.

I used fresh corn in this recipe and we loved the mix of flavours; I made the vinegrete heavy on vinegar and less oily out of preference
In a large mixing bowl, whisk the oil and vinegar with salt and pepper to taste to form a dressing.
Add the remaining ingredients, and toss to coat with the dressing.
Taste, and reseason if necessary.