Garden Vegetable Egg Salad
ImPat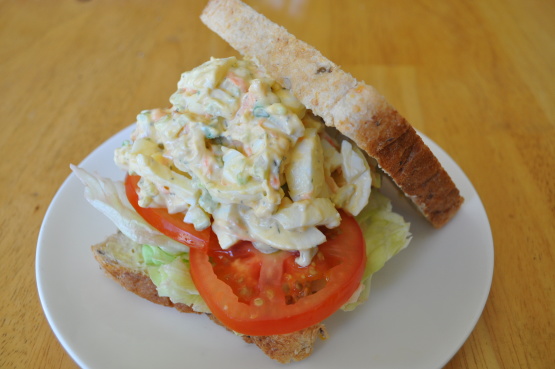 This is full of chunky veggies. Stuff a pita with this salad or eat on a bed of fresh salad greens. Prep time does not include hard-boiling the eggs.

This was such an easy and yummy lunch! I scaled the recipe back for one, and it came out just fine (just remember 1/16 of a cup is 1 T!). I used one egg and one egg white instead of two eggs, and at the last moment realized I had forgotten to buy mayonnaise! I subbed in plain fat free yogurt, and since it is fairly liquid I omitted the milk. Perfect! I enjoyed the dill week in this, though I have to admit I missed my usual addition of crunchy pickles and will probably add them next time. Thanks so much for posting! Made for Went to Market Tag.
Peel hardboiled eggs and chop them. Place in a large bowl.
Add the remaining ingredients (start low with the mayonnaise) and mix well.
Chill for at least 1 hour before serving in pitas, rolls or on fresh greens. Don't forget the lettuce and tomato!