Bergy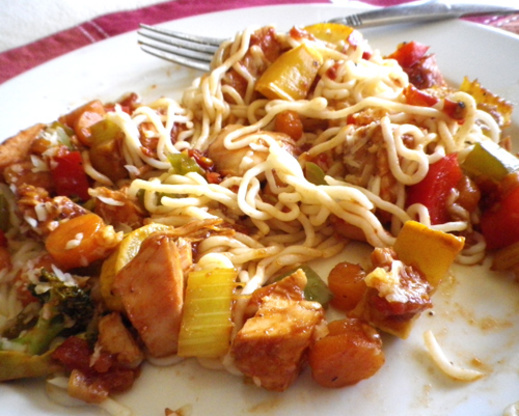 I got this recipe a few years ago, but I cannot recall where. But it's a great light dinner dish for those hot summer nights when you don't feel like cooking or on those evenings when all you want is a refreshing and light meal. But we also have this year-round, and sometimes serving it warm with a bit of diced roasted chicken or proscuitto ham for a more substantial meal.

My DH and I both loved this, but I have to admit I did change it a little. I roasted all the veggies for about 1/2 hr. at 400*F. And I forgot to add the mozzerella at the end, and I'm sure that would make it even better! Thanks! Made for PRMR.

UPDATE:
I made this again using spaghetti squash instead of pasta, steaming the veggies this time, and added the mozzarella and enjoyed it alot.
In a large pot, cook pasta covered in boiling water, for 8 minutes or until limp. Set noodles aside in a colander to allow water to drain.
Lightly steam all of the vegetables just until they are starting to become tender. Remove them from the heat and let them cool a bit. Place all vegetables in a medium bowl and toss lightly.
In a separate small bowl, add the oil, cheese, garlic, basil, salt and pepper. Mix well.
Add the oil mixture to the vegetables and toss gently until vegetables are well coated with the oil mixture.
To serve, place pasta on each individual plate, and top with the vegetables. Sprinkle the top with shredded mozzarella. Serve either slightly warm, or if you prefer a refreshing cool meal then let the vegetables and pasta cool completely.