Garden Ranch Pizza-Pampered Chef
Parsley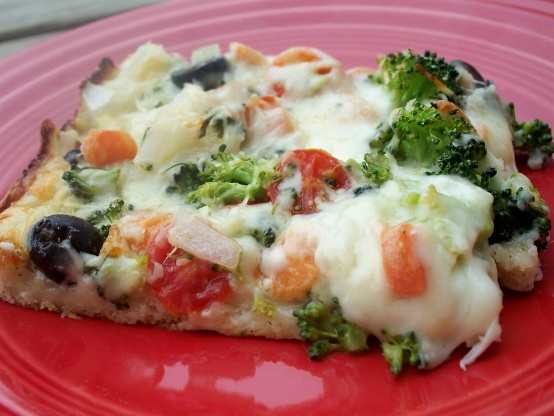 This is a quick pizza to through together. What I especially love is that my kids devoured it even though it was covered in vegetables and there wasn't a piece of meat in sight. Substitute your own favorite vegetables (zucchini, onion, cauliflower), the possibilities are endless.

I made this tonight as a welcome home dinner for my boyfriend. I followed the recipe exactly and we both enjoyed this very much. I did not pre-cook my veges' as suggested by pixieglenn because I enjoy all of the vegetables listed both raw or cooked - so I figured it wouldn't matter if they didn't cook in the oven (though I found that they did). I took away one star because I think 2 tablespoons ranch dressing mix might have been too much seasoning for the sauce - it was too salty for my taste. Next time, I will use only 1 tablespoon and maybe add some diced onion to the chopped vegetable mix. This is a great 'quick and easy' meal. Thank you!
preheat oven to 425°F.
combine mayonnaise, ranch seasoning and garlic to make a "sauce".
Spread evenly over crust. Sprinkle on half the mozzarella. Layer on all the vegetables and olives. Top with the remaining mozzarella and the parmesan cheese.
Bake 18-22 minutes or until pizza crust is cooked. Serve immediately.