Garden Primavera Fettuccine
lazyme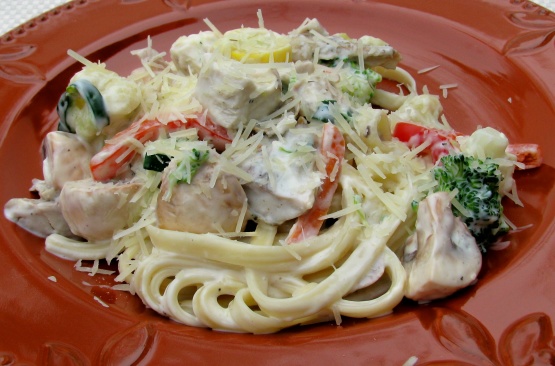 From Simple and Delicious - boy I love this magazine! Submitted by T. Perrault. I love how she combined cauliflower, broccoli and zucchini within this recipe. Just a lovely combination. Feel free to use already prepared Alfredo sauce or your own recipe for Alfredo sauce. I made this once as a side dish and realized it makes a large amount, so then the next time I added some cooked chicken to make it a main meal. Serve with crusty bread and you are done!

Great meal! I used Ragu light Alfredo and added everything except the cauliflower. I also added garlic and mushrooms. I highly recommend adding the garlic! This makes a wonderful weeknight meal because it comes together so fast and easy! Thanks so much for a great recipe!! P.S. Having leftovers tomorrow with some rotisserie chicken added. Can't wait!!
In a large saucepan, cook fettuccine according to the package directions.
Add vegetables during the last 4 minutes of cooking pasta.
Drain and return all to the pan.
Add Alfredo sauce and basil, tossing to coat.
Cook over low heat for 1-2 minutes or until heated through.
Sprinkle with Parmesan cheese to your taste right before serving.