Garden Pasta With Shrimp (Or Chicken or Tofu!)
mikey ev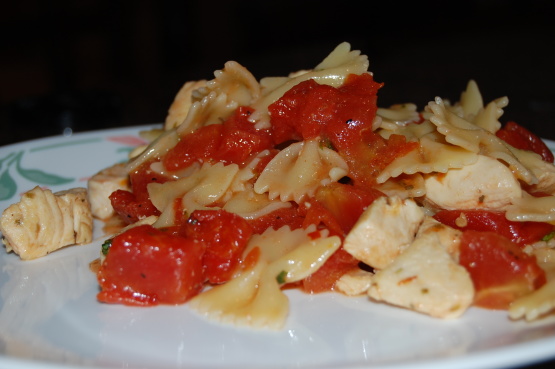 From Cooking Light. This is a light, healthy pasta. I made it with chicken instead of shrimp, and a can of drained diced tomatoes instead of fresh. I also added some agave (like honey) to step 5 and I thought that brought up the sweetness to combat the acidity nicely. If you like multitasking (like me!) I recommend making the "sauces" (see the step 1 and step 5) first while the pasta water boils. Then you can cook the pasta and shrimp/chicken at the same time. *Don't let the long ingredient list intimidate you - this is so simple and quick!
Combine 2 tablespoons olive oil and next 6 ingredients (through shrimp) in a large bowl; toss well.
Heat a large nonstick skillet over medium-high heat. Add shrimp mixture to pan; saute 6 minutes or until done. Remove from heat; set aside.
Cook pasta according to package directions, omitting salt and fat.
Place pasta in a large bowl; add tomato, basil, and mint.
Combine red wine vinegar, 1 tablespoon olive oil, sugar, and next 5 ingredients (through black pepper) in a small bowl.
Pour over pasta mixture and toss to coat. Stir in feta cheese and serve with shrimp.