Pneuma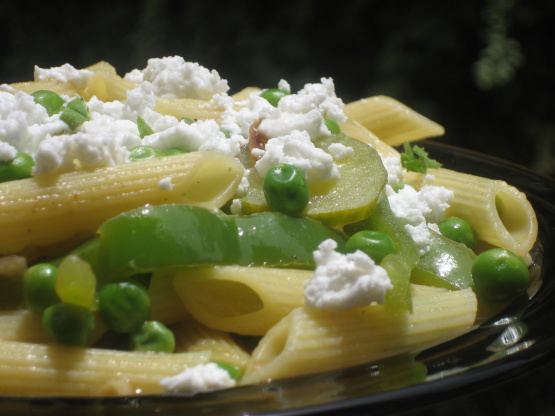 Fresh veggies make this primavera a good choice during spring and summer months. Feta and mint add a little 'Greek' to the dish

A delicious pasta dish which we thoroughly enjoyed: a wonderful blend of flavours. The only modifications I made were to add one leek in step 2, to double the garlic and to add a handful of chopped baby spinach leaves in step five. I usually increase garlic in recipes; the other two additions were because I had those ingredients on hand (because I use them all the time)and was wanting to use them in the next day or two. I always do love sneaking in a leek where I can. Loved the wine and feta in this. Great recipe, Brooke, and one I'll be making again in summer. Thank you so much for sharing it. Made for the Please Review My Recipe tag game.
Bring water to boil for noodles. Cook until al dente while preparing veggies; drain and RESERVE 1/2 cup of cooking liquid.
Meanwhile, heat 1/2 tablespoon oil over medium high heat. Saute onion, adding salt if desired, 3-5 minutes.
Add yellow pepper and zucchini, stirring until veggies just begin to soften, 3-4 minutes. Add garlic and cook for one more minute.
Stir in white wine & fresh pepper, simmer until wine has evaporated.
Return pasta to pot, add cooking liquid, veggies, 1/2 tablespoon olive oil, fresh peas, mint and crumbled feta.