Garden of Good and Evil Peach Vidalia Barbecue Sauce
Kelley52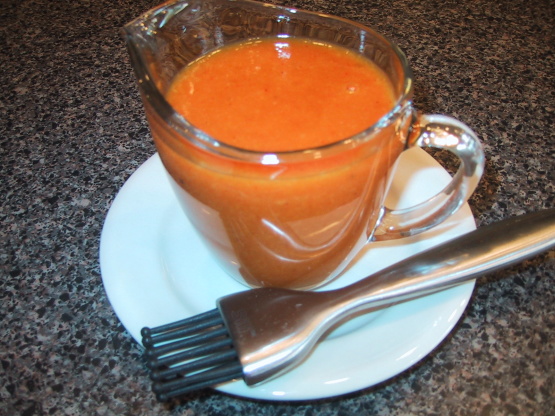 A sweet but wickedly good barbecue mop sauce for chicken, ribs, or fish.

You're right, it is wickedly good! I added a TBS of my dry barbeque rub and I pureed the sauce in my food processor. I strained it also. (It was a texture thing for me.) I made grilled pork chops this time, but I'm thinking this would go w/ anything! This recipe made a lot, so I froze the extra sauce in 1 cup containers. Thanks!
Bring large pot of water to a boil.
Cut an "X" in the bottom of the peaches and add to boiling water for 15 seconds. Transfer peaches to bowl of ice water until cool. Slip skins off and chop peaches finely.
Add all ingredients to medium saucepan and bring to a slow boil over medium-high heat, stirring frequently.
Turn heat down to low and simmer until slightly thickened, approximately 20 minutes. Stir occasionally.
Use as a barbecue mop sauce for last 15 minutes of grilling chicken, ribs, or fish.