Garden Mint Jelly With a Hint of Garlic
Satyne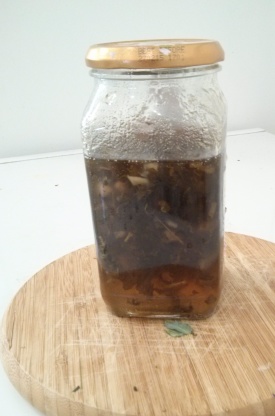 My mint has gone crazy this year so am trying to save some for the winter months, this was a mixture of several recipes plus a few bits of my own and it is DELICIOUS, even DH who hardly ever comments asked me to make more! I put only a hint of chilli in but feel free to add more if that is to your taste. This would be great with a hot curry I think. This Jelly will be a very dark green colour, just from the mint.

Top Review by Satyne
I made this today and put some on my potatoes while I was still waiting for it to set, very nice, tastes a lot like store bought. I didn't have liquid pectin, so used jamsetta powder which I've been using in my jams. I hasn't set as of right not, but it's still hot, so we'll see. I am very happy that I have found a recipe I like to use up all of my mint.
wash mint thoroughly and divide into 2.
take the leaves from one bunch, squeeze out the surplus water and chop finely.
Put vinegar and sugar into a saucepan with the second bunch of mint and stir over a low heat until the sugar has dissolved.
Bring to the boil for 1 minute.
Strain syrup through a muslin and return to the saucepan.
Stir in the certo, bring to the boil and boil for 2 minutes.
Add the chopped mint, garlic and chilli.
Allow to cool slightly to prevent the mint from floating.
Skim, pot and cover in the usual way.