PaulaG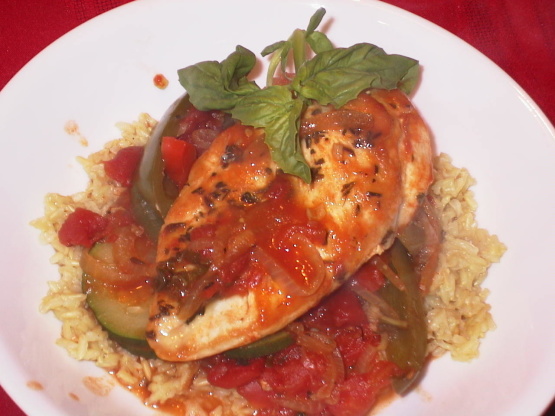 This is a really lovely springtime meal. I prefer to use rosemary on its own rather than herbes de provence. This is lovely with rice, but I prefer it with Couscous.
Rub the chicken breasts with the herbs.
Peel and finely chop garlic and onions.
Chop the courgettes, cut the peppers in half and remove seeds and white pith.
Cut into wide strips.
Heat 2 tbsps oil in a large pan, and fry the chicken for 8 minutes.
Turn and fry for another 5 mins.
Remove from pan and keep warm Add remaining oil, onions, garlic, peppers and courgette to the pan.
Cook until vegetables soften.
Add tomatoes with the juice, and season.
Cover nad simmer for 10 minutes.
Stir in the freshly chopped parsley and put teh chicken on top.
Cover nad simmer for 10 minutes, garnish with Basil and serve.