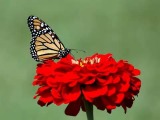 This is a Syrian favorite complete with all it's flavors, textures, and colors. Recipe is from my Vegetarian Gourmet's Easy International Recipes cookbook.
Directions
In a large bowl, combine beans, tomato, cucumber, bell pepper, onion, and olives. Sprinkle with parsley and mint. Mix well.
In a small bowl, combine remaining ingredients, mixing until blended. Pour over vegetables, mixing well.
Cover and chill several hours or overnight. Stir before serving.