Garbanzo Beans With Escarole and Fennel
dicentra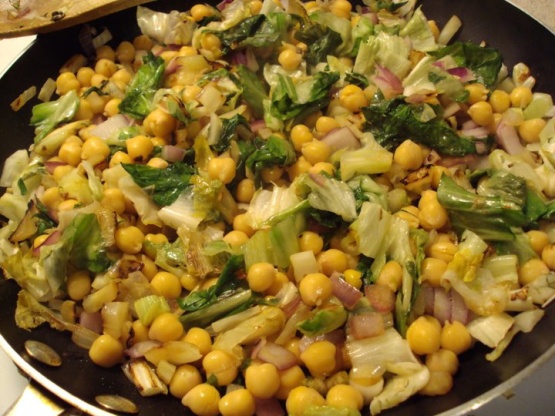 This is from 365 Meatless Main dishes. To make this into a main dish, toss with 12 oz pasta. Posting for ZWT3.

Eh, this didn't go over so well. It doesn't taste BAD, it's just not delicious. It's good, it's very healthy! I served this over brown rice. I used double the fennel & escarole. I cooked my own garbanzos. I did add extra red pepper flakes. It just needed more spice of some flavor...it was kind of bland with the occasional ZIP from the red pepper. Also, be careful not to overcook the veggies. Made for Go to Saudi Arabia in the NA/ME Forum 6/13.
In a large nonstick skillet, heat olive oil over medium heat. Add red onion, fennel, garlic and hot pepper.
Cook and stir until vegetables are soft, 3-4 minutes.
Add escarole, cover, and cook over medium-low heat until escarole is wilted, 5-6 minutes.
Add garbanzo beans and salt; stir to combine. Cook, covered, until garbanzos are heated through, about 2 minutes.
Serve with lemon wedges.