Gambas Al Ajillo (Shrimp W/ Garlic) Catalonia
Swirling F.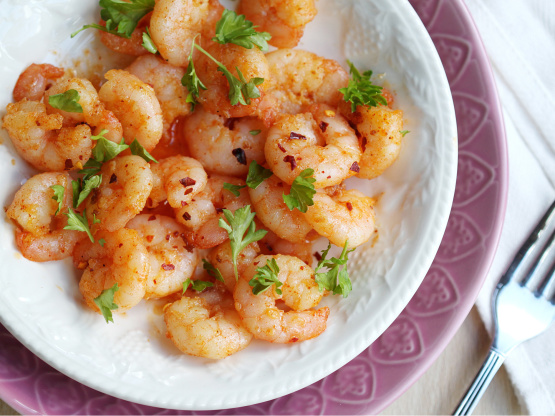 While this is usually served as a tapa, it is too good not to eat as a main course. After trying the ones that were posted here on Zaar, I found myself still searching for the gambas we had in Barcelona. Finally I found the recipe with the flavor and creaminess of the dish we fell in love with in Spain! The same dish can be made with squid, cut into rings, or scallops. Serve with lots of warm crusty bread to sop up the sauce…. You will not want to waste a drop! (Make sure you are "warming" the olive oil and the butter, not cooking it off..... cause you'll want every last bit of it for the sauce)

This was delicious!!! I did add some thinly sliced shallots and minced red peppers to the garlic to saute and then with the lemon juice and paprika I added some white wine to make a little more sauce and serve it over angel hair pasta...topped with fresh minced parsley and some parm. DH gobbled it down and wanted more. (I guess I shouldn't have cut the recipe in half). I did serve it with sauteed spinach, shallots and a little minced garlic and french bread and it made for a wonderful meal. This is going into my Favorites of 2010. Thank you for such a wonderful recipe. Made for Think Pink Cancer Awareness 2010.
In a wide, shallow sauté pan over high heat, warm the Olive Oil and the Butter; add the Shrimp and Garlic and sauté quickly for about 2-3 minutes.
Add the lemon juice, paprika, pepper flakes, and salt and pepper to taste. Adjust seasonings to your liking.
Transfer to a warmed serving dish, sprinkle with the parsley and serve at once.