Parsley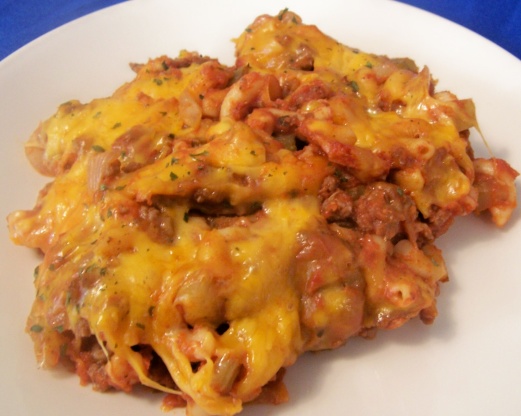 Source Wallaces Farmer June 25,1977 Found this tucked in a cookbook I borrowed.

Quick easy and inexpensive, yet my family ate it up. Reminded me of Johnny Marzetti from my youth. Thanks for Sharing
Melt butter in a large skillet with cover add beef, onion, celery and green pepper and saute until meat is browned.
Add tomatoes, salt, pepper and bring to boil.
Add macaroni, cover and cook over low heat, stirring occasionally, for 10 minutes or until macaroni is tender. (Watch close as you may need to add 1/2 cup of water to finish cooking macaroni.).
Another way is to cook the macaroni to al dente (or less) then add it in at step 3.
Stir in Parmesan cheese.
Sprinkle with Cheddar cheese, cover and allow to stand for 5 minutes.
Sprinkle with parsley and serve.