Galletas Elena (Mexican Cookies)
Deantini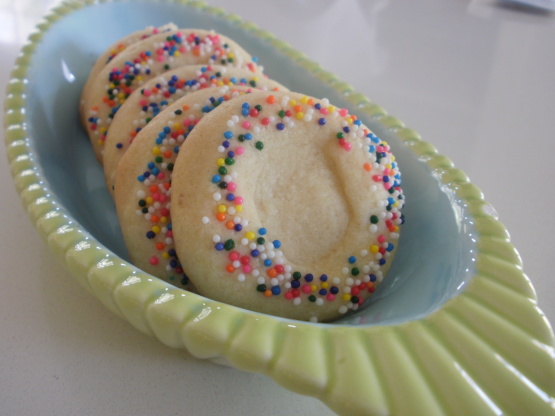 This came from Elena Zelayeta's Elena's Secrets of Mexican Cooking. She claims, though, that she is not the Elena of the title, but that this is a popular cookie in Mexico. Kids like the nonpareils

A nice basic cookie, with easy attractive decorating options. I use margarine, rather than butter - the cookies flattened a little in the oven, but were still tasty. We played around with other decorations besides nonpareils, and decided we like the mexican coarse-grained sugar best. (Cocoa/cinammon was tasty, but not very attractive.)
Preheat oven to 375°F.
Beat the butter, sugar, egg yolks and vanilla extract together.
Combine the flour, baking powder and salt, and sift them into the butter mixture. Stir to make a smooth dough.
Shape the dough into small balls. Poke your thumb in the center of each ball to make a hole, and shape into rings.
Dip each ring in nonpareils.
Bake on lightly greased cookie sheets for 10-12 minutes, or until lightly browned.
Cool before storing.