Gaeng Keow Wan Gai - Thai Green Curry Chicken
garmil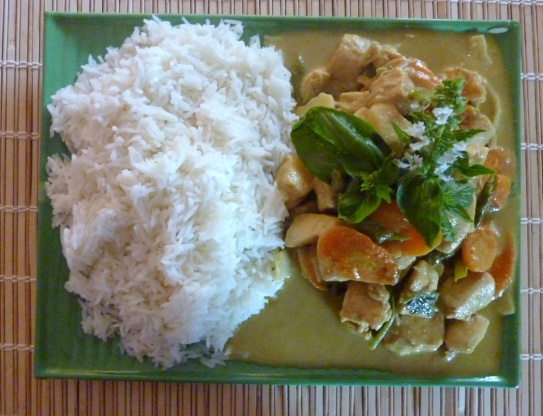 This is a delicious, very authentic recipe for Thai green curry. I hope you enjoy it :) Cooking time is approximate. Your chicken may take less or more time to cook than mine, so just watch it and judge accordingly.

Not only was this meal extremely tasty, it also cured a cold I had for almost a month! In case you have trouble finding a few ingredients, here are a few substitution suggestions: Sub 4-5 tbspns ginger for the laos powder Sub 1/2 tspon anchovy paste mixed in 1/8 cup warm water for fish sauce. Sub store bought curry powder for curry paste (but finely chop up 6 serrano chiles and simmmer in hydrated sauce for 8-10 minutes)
Place your chicken, 2 cups of coconut milk, fish sauce, and laos powder in a wok or large frying pan, and bring to a boil, allowing them to boil until the chicken is cooked and tender.
Remove your chicken from the pan with a slotted spoon leaving everything else behind, and put it on a plate and set aside.
Allow the milk to continue boiling until it is very thick and"oily".
Then take your curry paste, and add it to the pan.
Allow this to cook for 3 minutes or so, until everything is smooth and even.
Next, take your chicken and return it to the pan, and pour in the rest of the coconut milk, and return entire mixture to a boil.
Reduce your heat and allow it to cook for approximately 10 minutes.
Finally, add your basil and citrus leaves, peas and serranos, increase your heat and allow it to boil for 5 minutes.
Serve immediately.