Gado Gado: Indonesian Salad
Mantarae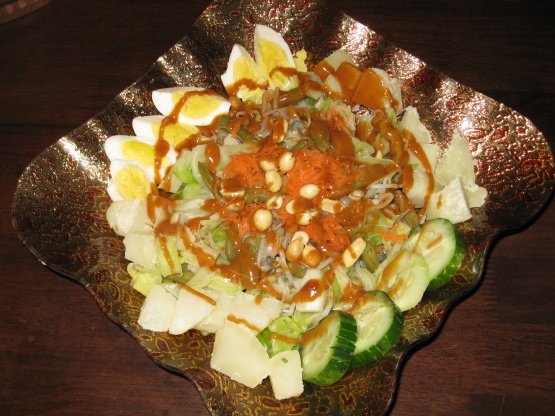 This is a weird but yummy dish.

I brought a big pot of water to the boil, and dealt with all the veggies seperately, dropping them in, bringing them back to the boil and then cooking for a minute or two before removing them with a slotted spoon. I also cut a carrot into "flowers". I served the sauce seperately, so a very health concious friend could use it or not! We had pork satay, and I used the sauce from that for both dishes.
Bring the water to a boil; add salt, cabbage, bean sprouts, and green beans.
Boil vegetables for 5 minutes; drain.
Boil potatoes in a separate pot until tender then peel them.
Cut potatoes, eggs and cucumber into slices.
Heat peanut sauce on low heat.
Arrange the green vegetables on a very large platter.
Cover them with the sliced potatoes, eggs and cucumbers.
Pour the peanut sauce over the entire platter and serve.
Serving Ideas : Serve with white rice and a meat dish.
NOTES : The peanut sauce may be made by hand or bought.
We put the Gado Gado in a large casserole dish.