Gabby Gourmet's Southwestern Chili
PanNan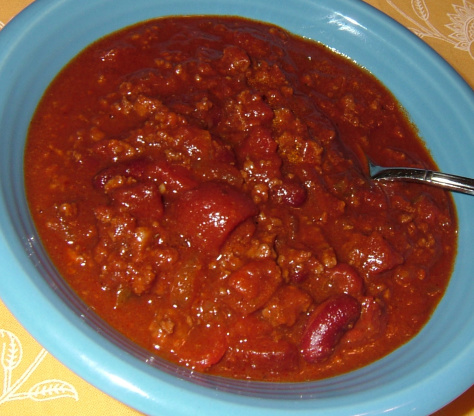 The Gabby Gourmet (Fred Wix) says of his chili recipe: "If you're a true chili afficionado, there will be no beans, but if you want beans, put 'em in! Just add the beans as a final ingredient." Posted for Zaar World Tour II and the Mexican Savory Chocolate Challenge.

Had always heard people advocating adding chocolate to chili , which I never quite got but thought I'd give it a shot with this recipe. Turned out fabulous, absolutely a chocolate in chili convert now :) Kids devoured it, even without being told there was chocolate in there. Had a bunch of lentils kicking around so we made it a vegetarian chili by swapping them in for the beef. Still worked like a charm. Would recommend this to anyone.
In a large heavy pot, heat the oil over medium-high heat; add the beef, onions, bell pepper, and garlic; stir and cook mixture for about 5 minutes.
Once onions and bell pepper are tender, add remaining ingredients along with a cup of water; if desired, add several dashes Tabasco sauce to taste; reduce heat and simmer chili for about 1½ hours, stirring occasionally.