Ga Pao (Thai Stir-Fried Beef With Basil Leaves)
rpgaymer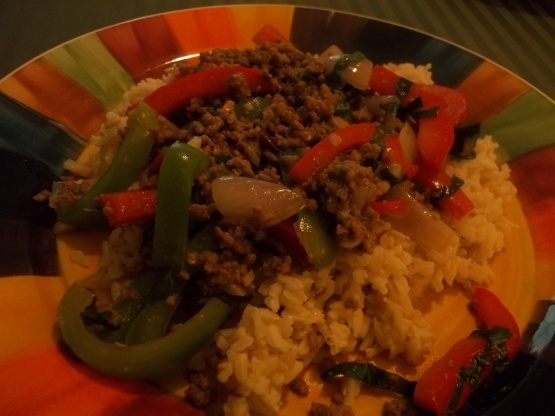 Craving for Thai food? This is a classic dish you can find anywhere in Thailand. Thai holy basil and Italian basil have different flavors but both are aromatics which gives a big kick to this recipe. You can buy holy basil at an Asian supermarket, but you can use Italian basil, which will make the dish sweeter. Ground chicken or ground pork Instead of ground beef are also great. If you are not motivated to cook, this easy recipe will make you happy.
This was interesting. I've had this dish at Thai restaurants, but it tasted a bit different. The sauce seemed a bit thin in this version, and there were SO MANY bell peppers. The addition of a fried egg sounded nice, but I hadn't realized I was out of eggs until the last minute so I couldn't add them. Maybe a runny, gooey yolk would have brought all the flavors together for me.
In a frying pan, heat vegetable oil, over a medium heat. Add minced garlic until slightly colored and aroma is released.
Add ground beef and fry until brown. When ground beef is almost cooked through, add veggies.
Stir fry quickly so that veggies remain crunchiness.
Combine 4 ingredients to make sauce. Add sauce to frying pan and mix well.
Make space in the pan for frying egg. Fry until egg white gets crispy on the edge.
FInally, add basil leaves, mix well.
Serve stir-fry on steamed rice. Top with egg and sprinkle with black pepper.