Gâteau De Pommes Grand-Mère (Grandmother's Apple Ca
katew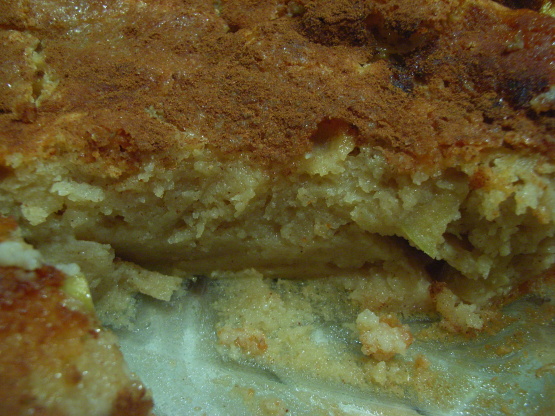 From Van Gogh's Table. Thanks to roz for directing me to this recipe.

Top Review by gusy78
I have made this recipe many times for over ten years. It keeps very well in the fridge, the best days to eat it are actually days 2-5.

However, I make important adjustments to make this a healthy breakfast and snack:
- halve the sugar, using brown or cane or anything but white sugar;
- use a bit less oil and add a 1/3 cup applesauce to sweeten and add moisture
- usually I add ground gloves or nutmeg to warm the flavor

This recipe is also easily made vegan with egg replacer and more applesauce or pureed silken tofu, as well as the obvious substitutions.
Preheat the oven to 350°F.
Generously grease an 8-inch round cake pan (no need to grease if pan is nonstick).
Melt the butter in a medium skillet over medium-high heat. Sauté the apples, tossing occasionally, until golden brown, 5 to 7 minutes. Stir in the Calvados, 1 tablespoon of the sugar, and the cinnamon. Set aside until needed.
Whisk together the yogurt and the remaining sugar in a large bowl, until very smooth, about 2 minutes. Combine the flour and baking soda, then add the oil and eggs, whisking well after each addition. Stir the apple pieces into the batter.
Pour the batter into the prepared pan, spreading it evenly. Set on a sturdy baking sheet and bake for 45 to 55 minutes, or until a toothpick inserted in the center comes out clean. Allow to cool on a wire rack.
Note: The cake is best made several hours before serving, or better yet, the night before.