Derf2440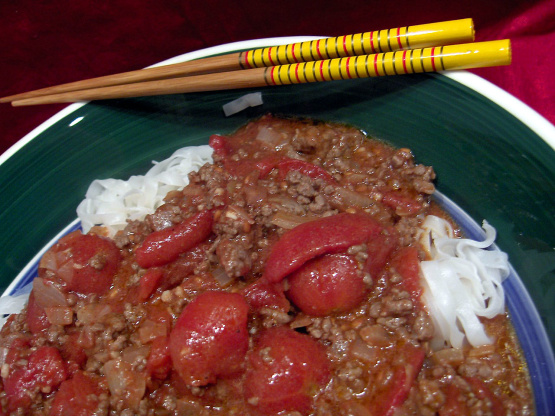 American Chop Suey turned on it's head! Reminiscent of Greek cuisine with the addition of cinnamon...an Asian twist with the switch to rice noodles. Made for RSC #9.

I made this tonight and it wasnt what I expected. I found it rather bland and the rice noodles just didnt seem to go with the dish. My husband actually chose not to finish his plate, he disliked it so much. I am not sure what would improve this dish as I added ginger and red pepper but still found it bland. We will not try it again.
Heat oil in large skillet or saucepan.
Saute chopped onion 3 minutes. Add chopped garlic & saute 2 minutes more.
Add ground beef & saute until browned, breaking up large chunks.
Sprinkle on cinnamon & stir in.
Add can of tomatoes & simmer 5 minutes to allow flavors to blend, stirring occasionally & breaking up the tomatoes a bit.
Season with salt & pepper to taste.
While sauce is cooking, cook rice noodles approximately 5 minutes in a large pot of boiling salted water. Drain.
Combine sauce & noodles. Enjoy.