Rita1652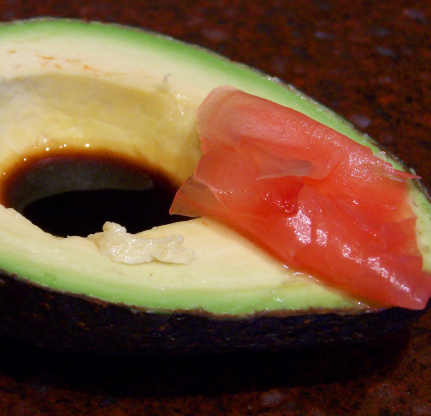 Had this in TEXAS a couple of years ago! My SIL Kathie turned me on to it! Sushi without the fish, Nori, and trouble of making it! OK she just had the soy but darn the pickeled ginger is so good! This is so quick and easy!!!!! It'll satisfy that I WANT SUSHI need! I myself can eat one a day!

I've been doing this for a long time. I've perfected it so I get just the right ratio of soy sauce to avocado with each scoop... yummy, and was a perfect comfort when I was pregnant and not supposed to eat sushi.
Take a spoon between the meat and skin to loosen.
Pour 1/2 teaspoon soy sauce over each half of avocado.
Scoop out with a spoon and enjoy!
Using Optional wasabi or ginger to taste is a great healthy option!