Fusilli With Sausage, Artichokes, and Sun-Dried Tomatoes
Prep 18 mins
Cook 20 mins
From Everday Italian on the Food Network, this recipe is absolutely amazing! Do not hesitate, go out, buy your ingredients, and start cooking!!!
Directions
Heat the oil reserved from the tomatoes in a heavy large frying pan over medium-high heat. Add the sausages and cook until brown, breaking up the meat into bite-size pieces with a fork, about 8 minutes. Transfer the sausage to a bowl. Add the artichokes and garlic to the same skillet, and saute over medium heat until the garlic is tender, about 2 minutes. Add the broth, wine, and sun-dried tomatoes. Boil over medium-high heat until the sauce reduces slightly, stirring occasionally, about 8 minutes.
Meanwhile, bring a large pot of salted water to a boil. Cook the fusilli in boiling water until tender but still firm to the bite, stirring often, about 8 minutes. Drain the pasta (do not rinse). Add the pasta, sausage, 1/2 cup Parmesan, basil, and parsley to the artichoke mixture. Toss until the sauce is almost absorbed by the pasta. Stir in the mozzarella. Season, to taste, with salt and pepper. Serve, passing the additional Parmesan cheese alongside.
Most Helpful
This is really yummy! I used reduced fat sausage and subbed a can of artichokes for the frozen kind. The sun-dried tomatoes add a great flavor! I also skipped the white whine and just used more low-sodium chicken broth. Thank you so much for posting! :)

Fantastic!! I made this a little differently, though. I started browning the sausage and, before it was done, added the artichokes and garlic, browned the garlic, then added the wine, etc., leaving the sausage in the pan the entire time. I think this added even more flavor to everything (but who's to say that I would know more than Giada!). We enjoyed this tremendously and it goes down as one of our pasta favorites.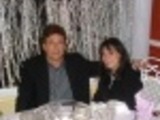 Okay, this was SO good... really, we loved it so much. This recipe is in my Giada cookbook and it calls for Penne, so they must have decided to use fusilli on the show that day! Anyway, I could not find frozen artichokes, so I subbed a can of black olives and it just belonged! Honestly, I would do it that way again, forget the artichokes. It was a beautiful dish and the fresh mozzarella was NOT an option as far as I was concerned! You must try this! Can't wait to make it again, thanks for posting :)