Fusilli With Creamed Leek and Spinach
COOKGIRl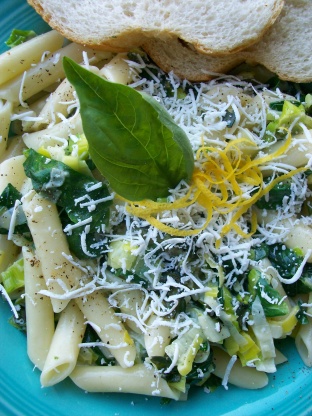 One of the "Best Food and Wine Pasta Dishes" of 2009. States, "This delicious pasta was the fastest adnd simplest to prepare of all the winners." Feel free to top it off with some parmesean cheese and/or some lemon zest!

Easy yet elegant dish. I accidentally purchased penne and not fusilli but at least it was the correct pasta shape for this recipe. (Confused myself looking at Lori Mama's photo.) I felt the dish were missing something and I added a pinch of freshly grated nutmeg to the cream sauce. A light sprinkle of Greek myzithra and the lemon zest on top made for a very delicious and quick meal. Reviewed for Veg Swap #19-2010. Thanks!
3⁄4 lb fusilli
1 1⁄2 tablespoons extra virgin olive oil

1

large leek, white and light green parts only, thinly sliced

1

cup heavy cream

4

cups packed Baby Spinach, coarsely chopped (4 ounces)
1⁄2 cup lightly packed basil leaves, finely chopped
kosher salt & freshly ground black pepper
In a large pot of boiling salted water, cook the fusilli until al dente (as per the instructions on the box), then drain.
Meanwhile, in a large, deep skillet, heat the olive oil. Add the leek and cook over moderate heat until softened, about 10 minutes.
Add the cream and simmer over moderate heat until slightly thickened, about 5 minutes.
Add the spinach and cook until wilted, about 2 minutes.
Add the cooked fusilli to the skillet and toss over moderately low heat until coated with the leek sauce, about 1 minute.
Remove from the heat, add the chopped basil and toss. Season with salt and pepper.
Spoon the fusilli into bowls and serve.