Fusilli With Carrots, Peas & Mint
Jostlori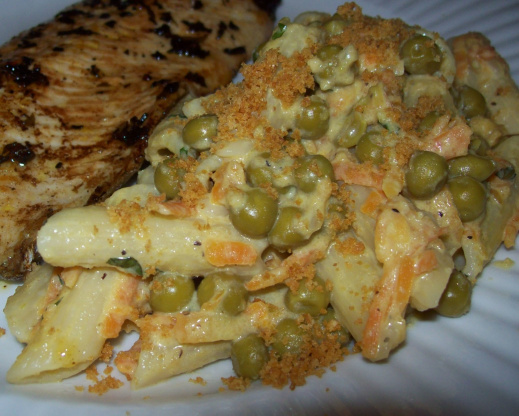 An unusual combination but so delicious! This recipe is easy to put together, too. If it's a little dry, add a bit of milk. From Gourmet Magazine, 1991.
In a skillet cook the bread crumbs in 1 tablespoon of the oil over moderate heat, stirring, until they are golden and crisp and transfer them to a small bowl.
In the skillet cook the shallot in the remaining 1 tablespoon oil over moderately low heat, stirring, until it is softened.
Add the peas and the broth, and simmer the mixture, stirring, for 3 minutes.
Stir in the carrots, simmer the mixture, for 2 minutes, or until the carrots are just tender, and stir in the cream and salt and pepper to taste.
Simmer the mixture until the liquid is reduced by about one fourth, remove the sauce from the heat, and keep it warm.
In a kettle of boiling salted water cook the fusilli until it is al dente, drain it well, and in a bowl toss it with the sauce, half of the bread crumbs, and the mint.
Divide the fusilli between 2 soup bowls and top it with the remaining bread crumbs.