Prep 15 mins
Cook 35 mins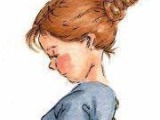 Funny cake is kind of a cake/pie combination, as is Shoo-fly pie. It has a cake "filling" surrounded by a pie crust. Also, like shoo fly pie, it has a "wet bottom" - a layer of chocolate goo between the pie crust bottom and the cake top.... and funny cake is very, very good!!!
Directions
Combine bottom layer ingredients in a saucepan.
Cook, stirring constantly just to boilng, lower heat and simmer gently 2 to 3 minutes.
Set aside.
For cake layer, blend eggs, sugar& butter.
Beat 2 to 3 minutes.
Alternately beat in milk& flour/baking powder mix.
Add vanilla.
Pour into unbaked pie shells.
Pour chocolate mixture over top of batter.
Chocolate will be very runny but will thicken and"sink" below batter as it bakes.
Bake at 350º for 35 to 40 minutes.
Most Helpful
I have always wanted to make this I saw it at a friends house she said her husband who doesn't like dessert loves it. Years later I finally decide to make it had a hard time finding the recipe I thought it was goofy cake finally typed in funny and found it. I had all the ingredients on hand an extra pie crust and I needed a dessert. I changed the servings down to one pie and then made it. It was maybe a tiny bit dry but then again i didnt get to taste it until days later, since I sent to my husbands work, they preferred the chocolate chip cookies-can you blame them. Well I Love that the chocolate goes through and leaves a wonderful layer between the cake and crust. No one commented on it, half was eaten before i begged him to bring some home for me. Tastes best warmed up I think, that softens the cake and melts the chocolate. Very mild and simple sweet.
This recipe turned out very well. It was the best funny cake I've had. They tend to be kind of dry in general, and this one was moist. When it was still warm, and the chocolate was warmer than the cake portion, it was exceptional. Thanks for the recipe!