Lidya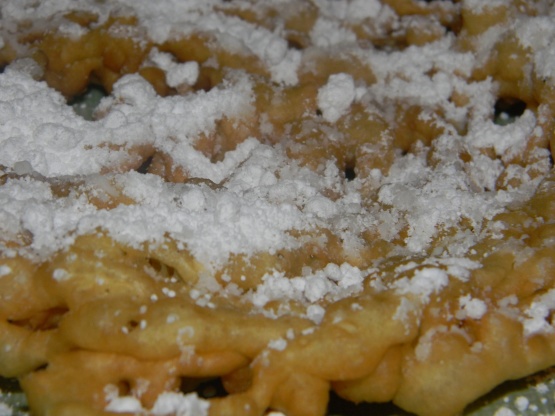 I love to get funnel cakes at the fair, but a fair is not always in town. This recipe is very good and perfect for a quick snack for the kids.

Great recipe. Put it together in less than 15 minutes and it turned out great. I added some extra milk to make it runnier to flow through the funnel and added a pinch of cinnamon. Tastes just like at the carnival, just with less carny. :)
In a large bowl, mix all dry ingredients.
Beat egg, milk, and vanilla together in a separate bowl.
Add milk mixture to dry ingredients beating until smooth.
Fill 8" skillet with 1 inch oil and heat to 375 degrees.
Cover funnel hole with finger and fill with about 1/4 cup of batter.
Hold funnel over skillet and remove finger moving funnel around to form patterns with the batter.
Fry until golden brown, about 1 or 2 minutes.
Turn over with tongs and continue frying another minute or two or until both sides are brown.
Remove from oil, drain on paper towels, and sprinkle with powdered sugar.
Serve hot.