Funky Pasta - Quick, Easy and Tasty
Kathy228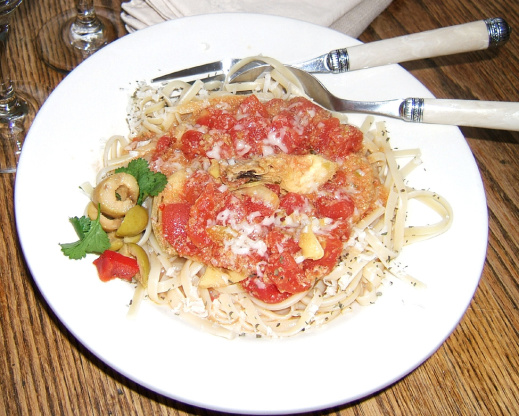 Something I threw together to go with a marinated pork roast. The family inhaled it and DH took the rest to work the next day, so I guess it is a hit! ;) I have been told it is one to continue to make for them! Great for a quick work night meal!! ** I have made it with and without the white wine depending on if I have it on hand and they like it both ways!

This WAS fast. And tasty too... just like the name. The recipe didn't specify what kind of olives, so I used green olive spread. And I loved it. The smokiness of the fire-roasted tomatoes came through. I think for a change, a red wine would be good too. This was quite different and would make an interesting side dish for a company meal. Thanks MD.
Boil pasta in water with 2 tbsp garlic powder.
In a large pan, combine all ingredients except cheese over medium-high heat and saute for 5 minutes or until completely warmed, stirring constantly.
Add cheese and stir for another 2 minutes.
Serve immediately with main dish and salad. (Marinated pork loin worked great!).
Enjoy! ;).