Mitzi 3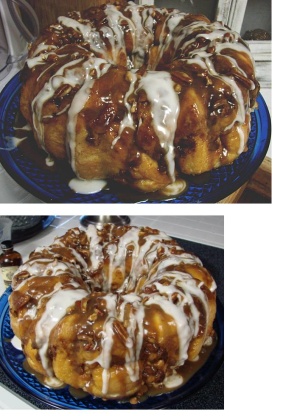 Actually, I just call it "butt cake." That's just because it comes out of a bundt pan and I can't help myself. But really, this is a super easy recipe and great to serve to guests if you want to give them the impression you care. It works. That's how I came by it. I was visting a friend and I woke up to find breakfast waiting for me. "She loves me!"

This was a gooey disaster. The pudding made it so soggy. there was nothing I could do with it but toss it. Won't make it again.
The night before, spray the bundt pan with Pam (the floured, baking variety).
Spread 15 frozen rolls around the bottom of the pan.
Sprinkle the packet of butterscotch pudding over top.
Sprinkle brown sugar over.
Drizzle the melted butter over everything, saturating as much sugar/powder as possible.
Cover with towel and let rise over night.
Bake at 350 degrees for 30 minutes.
Let cool a bit and invert on a nice serving dish with some kind of lip (the butter will run).
Serve with fresh melon and orange juice.