Pamela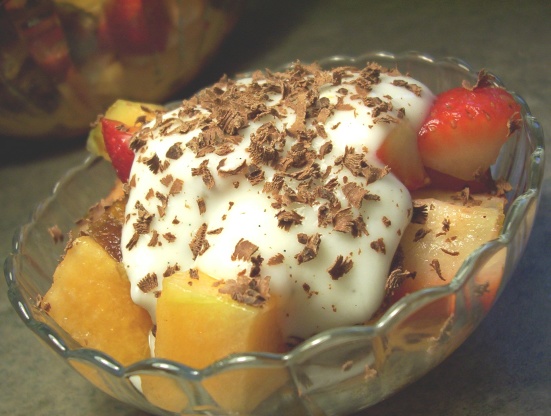 I made this for RSC#7. It seems an odd combination, but it works. The sauce is an amazing creation, if I do say so myself.

We totally enjoyed this for breakfast. I used all organic fruit and really enjoyed the flavor combination. I also used organic vanilla yogurt - which I think really made a difference along with the vanilla bean!! I added some shredded coconut to the tops along with the grated chocolate. We really thought this was an excellent breakfast!Thanks Bethie!
Drain yogurt in cheesecloth lined colander for 2 hours. (Coffee filters work well, too). When drained, combine in a medium bowl with vanilla seeds & sugar. Refrigerate at least 30 minutes to allow the flavors to blend.
Combine fruit in a large bowl.
To serve, spoon yogurt over individual servings of fruit & grate chocolate over the top.