Funky Chicken With Sesame Noodles
eabeler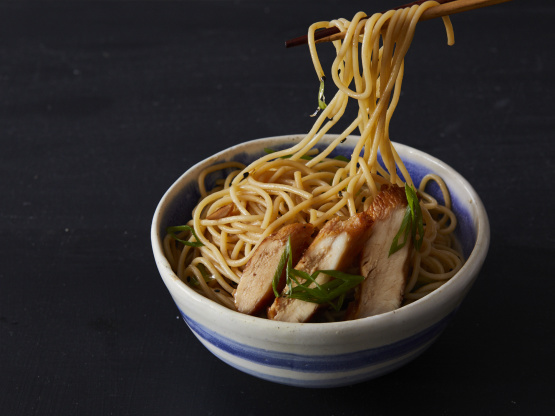 This has to be one of the most amazing chicken dishes I have ever made or eaten. It's really scary to watch people just attack this dish and practically inhale it in one breath. Brush up on your Heimlich Maneuver, people do get a little over-enthusiastic over this. Prep time includes marinating time.

Oh Mirj, I can't even tell you how much we loved this. You were so right about the inhaling part, lol! First off, I marinated the chicken. I added about 1 TBSP of sesame oil to the marinade, because I wanted to saute the chicken in olive oil. I also cut the chicken breast into fillets for faster cooking. When making the noodles, I realized I had no green onions, so I subbed shallots--worked just fine sliced nice and thin. Very easy dish with great flavor results. I had to take the bowl of noodles off the table to stop my husband from eating it. I also halved the recipe. Just delicious! Thanks for sharing!
Sesame Noodles

1

lb spaghettini (get the thinnest spaghetti you can find)
1⁄2 cup soy sauce
1⁄4 cup sesame oil (some reviewers have said that 1/2 cup of oil is too much and have halved the amount, so use your own)
1⁄3 cup sugar

3

scallions, thinly sliced
1⁄4 cup sesame seeds (or more)

Funky Chicken

1⁄4 cup soy sauce
1⁄4 cup teriyaki sauce

2

garlic cloves, minced
1⁄4 cup brown sugar

1

teaspoon fresh ginger, chopped (or 1/4 teaspoon dried)
sesame oil, for sauteing
First make the sesame noodles: Cook the spaghetti according to package directions.
Drain (I also rinse).
In a jar, add the soy sauce, sesame oil and the sugar.
Shake until well blended and the sugar has dissolved.
Pour this over the pasta.
Toss with scallions and sprinkle with the sesame seeds.
Set aside while you marinate and then cook the chicken.
Funkying the chicken: In a bowl mix the soy sauce, teriyaki sauce, garlic, brown sugar and the ginger.
Make sure the sugar has pretty much dissolved.
Add the chicken, making sure it's all coated with the sauce.
Cover and stick in the fridge for 2-3 hours.
Remove the chicken from the marinade, and toss out the marinade left at the bottom of the bowl.
Heat the sesame oil in a large non-stick pan.
Add the chicken in batches and saute for about 10 minutes, or until done, adding more sesame oil as needed.
Remove the chicken from the pan and let cool slightly.
Slice the chicken diagonally into thin strips.
Serve the chicken over the sesame noodles.
Stand back and watch your guests/children/loved ones inhale this dish.