Funfetti Cookies from Scratch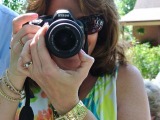 I needed to make some Funfetti Cookies but all the recipes I could find started with a box cake mix, which I didn't have in the house. I used Drop Sugar Cookies as my starting point and went from there. I thought others might appreciate knowing how to make them from scratch as well, so I decided to post a separate recipe.
Directions
Preheat oven to 350°F.
Mix together with a whisk the flour, salt and baking soda.
Using an electric mixer, cream butter and sugar in a large bowl until light and fluffy. Beat in vanilla and egg.
Add flour mixture and beat until smooth. Blend in milk. Mix in sprinkles until evenly distributed.
Drop by teaspoon about 3 inches apart onto greased baking sheets. Flatten with bottom of glass that has been dipped in sugar.
Bake for about 8 minutes or until edges are lightly browned. Cool on rack.