Fun & Easy Chocolate Dirt Cake
kdp4640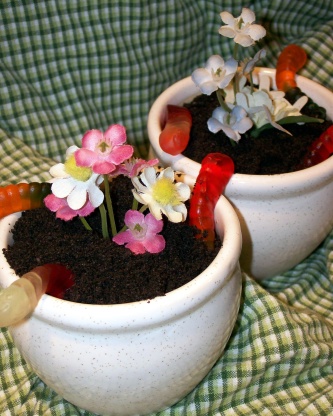 This is THE perfect cake to make for and with kids! It looks like dirt and tastes like chocolate!

This is truly the best dirt cake recipe and it's sooo easy to make! I grew up having this for my birthday cake every year. We lost the recipe and just kind of forgot about it until I found it on this website! Super excited :)
Take one large clean terracotta potting pot and clean with soap and water.
Make one package chocolate pudding as directed on box.
In electric food processor add Oreo cookies. Blend until smooth and looks like dirt.
Take softened cream cheese and powdered sugar and mix/cream in bowl. You can use a hand mixer or a kitchen aide to make it easier.
Carefully fold Cool Whip into cream cheese sugar mixture.
Take half the pudding and add to the bottom of pot.
Sprinkle 1/3 the gummy worms and bugs on top of pudding.
Add half of cream cheese and powdered sugar on top of pudding/gummies.
Sprinkle 1/3 of Oreo mixture onto the cream cheese mixture.
Add other half of pudding.
Add other 1/3 of gummy worms and gummy bugs.
Add the rest of cream cheese and powdered sugar mix.
Add rest of Oreo crumbs on top.
Garnish with plastic flowers and gummy frogs, worms and bugs on top.