DuChick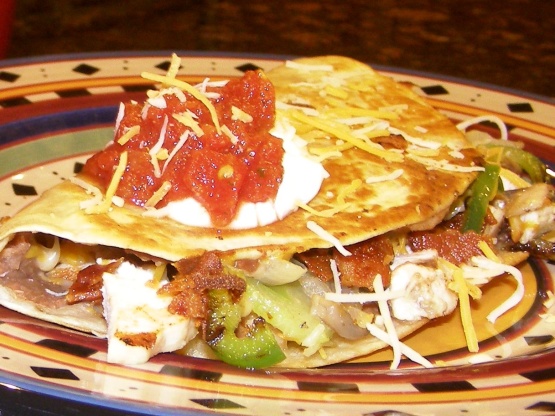 This can be made with any fully cooked chicken, I use Once A Week Chicken. I also use Amy's brand refried beans because they are lower in fat than brands made with lard. Fresh Mushrooms are best, canned ones are too wet. I usually make 3 of these when the kids and I have them for dinner

Loved this idea, I changed it a bit to suit our family. I left out the chicken (so we can have a meat free meal), added coriander (cilantro) and salsa. I reduced the butter to 1 teaspoon in total. I made enough to feed our family - a hit. We love quesadilla's and this one is great. Very filling, we served it with a simple salad. thanks1 Elizabeth
Melt 1 tbsp butter in a 12 inch cast iron pan.
Saute onions, peppers, and mushrooms.
While these cook place tortilla on a plate, spread beans and chicken on one half and top with cheese.
When the veggie in the pan are browned and soft carefully pour them over the cheese.
Put the remaining butter in the pan (optional, this helps brown the tortilla).
Fold the tortilla in half and place in pan.
Heat for about 1 minute on each side.
Cut into 4 wedges and serve with salsa.