Alskann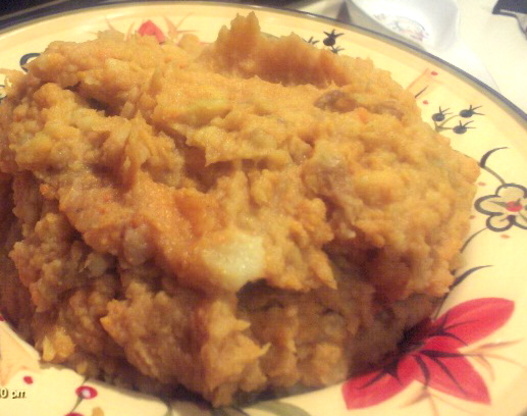 My husband and I tried this at the Animal Kingdom Lodge at Disney world, which is an absolutely marvelous buffet of African food. We loved it. I tried to get the waiter to sneak me the recipe to no avail. But he would tell me the ingredients, so I had to work out the proportions myself. It's pretty close.

The ingredients are great together, just not in the proportions listed. I can see how some people might like it that heavy in spices, but not me. I will try this recipe again with the same amount of potatoes and butter, but change the spices to 1/3 teaspoon cinnamon, a solid pinch of cardamom and 1/8 cup sugar. I would not make this recipe as written, but it could end up being a nice change for the family with some work. Thanks for posting.
Cube and boil the potatoes until done (they'll be fork-tender).
Drain very well; add butter.
Mash by hand or in an electric mixer. You want them to get very smooth, and a little bit starchy.
Stir in the spices and sugar.
Enjoy with marinated grilled meat or vegetables.