Fudgy Peanut Butter Chip Muffins
Prep 15 mins
Cook 22 mins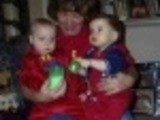 What a wonderful tasting snack, dessert, or maybe even breakfast? It's got to be healthy with applesauce and oats in it - right?
Directions
Mix applesauce and oats in a small bowl.
Beat butter, sugars, egg and vanilla until well blended.
Stir in the applesauce mixture, blending well.
Stir together the next 4 dry ingredients and blend into the butter mixture.
Fold in the peanut butter chips.
Fill 12 paper lined muffin cups 3/4 full of batter.
Bake in a 350 degree oven for 22-26 minutes or until a toothpick inserted in the middle comes out almost clean.
If desired, sprinkle with powdered sugar when slightly cooled.
Most Helpful
One of my kids favorite muffins. We use chocolate chips most of the time.
These are very decadent tasting, but they took much longer to solidify in the oven. I cooked them for 35 minutes. Only thing I did diff. was to use margarine and added 1-2 T organic P.B. and mini choc. chips. I don't buy P.B. chips, as they are high in hydrogenated oil. It came out more like a brownie. I would try it in a 9x13 pan and cut them as brownies. Then the servings would be a little smaller and the fat a little less.