Fudgy "no-Guilt" Brownies
Annacia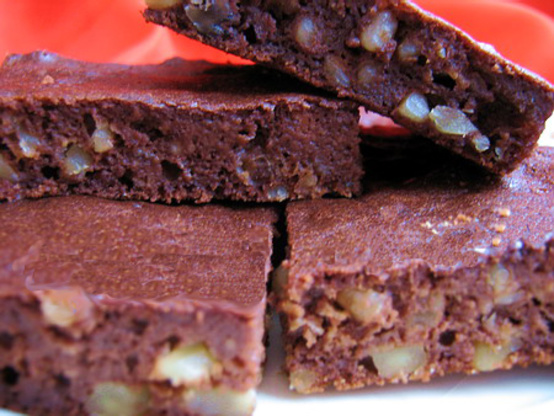 Recipe is from August 2007 edition of Cuisine at Home. The recipe calls for walnuts, as usual, I use pecans. For the diabetic, these work very well with 1/2 Splenda and 1/2 sugar with a light dusting of Homemade Powdered Sugar With Splenda and Glazes.

My brownies came out on the flat side. I take full responsibility for that as I replaced the sugar with Splenda leaving the recipe nothing to use as "building blocks". I used espresso coffee powder, Dutch cocoa and bittersweet chocolate. The single only thing that keeps it from being a 5 star rating is that the 1/2 cup of applesauce came through quite clearly. They are very moist and they do taste good and I love the walnuts. I skipped the powdered sugar. Thanks Paula.
Preheat oven to 350 deg.; line the inside of an 8" baking pan with foil and spray with nonstick cooking spray.
Place the chocolate, butter, cocoa and coffee granules in a microwave safe bowl and microwave on high power, until melted; stir every 45 seconds of cooking time.
Stir in sugar, applesauce and egg whites.
In a small bowl mix together the flour, salt and baking powder until thoroughly combined, stir into chocolate mixture just until mixed well.
Fold in toasted nuts and pour the batter into prepared pan.
Bake for 25 to 30 minutes or until a toothpick inserted in center comes out clean.
Cool brownies in the pan, then life out and remove the foil.
Cut into 12 bars and dust lightly with powdered sugar.