Fudgy Cherry-Cheesecake Brownie Bars
Prep 15 mins
Cook 50 mins

These are a favorite everytime I take them somewhere.....they are always the first to disappear. I usually cut them into squares and put them in individual cupcake papers to make serving easier. They are easy to make, too. Prep/cook time does NOT include 4 hours for chilling.
Directions
Heat oven to 350°.
Line a 13 x 9" baking pan with foil, letting ends extend a bit over sides. Lightly coat the foil with nonstick cooking spray.
Topping: Beat together all topping ingredients in medium mixing bowl until blended and smooth. Set aside.
Brownie: In a large microwavable mixing bowl, melt butter and chocolate using med power -- about 2 minutes---check every 45 seconds and stir. (Can also do in a saucepan over low heat.) Heat until chocolate is melted and smooth -- stir to make a smooth mixture.
With wooden spoon, stir in sugar, vanilla and salt into melted chocolate mixture. Add eggs, one at a time, stirring briskly after each egg, until well-blended. Stir in flour.
Spoon brownie mixture into prepared baking pan.
Scatter heaping Tbsp of topping mixture on top of brownie mixture. Next, scatter Tbsps of cherry pir filling over top. Run tip of a knife through topping and pie filling to create a marbelized look.
Bake at 350 for 45-50 minutes or until brownie edges begin to pull away from sides and edges of cream cheese are slightly brown. THE CENTER WILL STILL "JIGGLE" WHEN SHAKEN EVEN WHEN THEY ARE DONE!
Cool in pan on wire rack. When cooled, chill for at least 4 hours before cutting.
After chilling, simply lift out by using the foil that lines the pan. Place on cutting board and cut into squares, and place into individual cupcake/muffin liners.
Most Helpful
6/1/07 UPDATED: Made these in cupcake form to take to a picnic. This time, I cheated and used a 9 X 13 size boxed brownie mix. For the cupcakes, I used 1 Tbls of brownie batter, 1 Tbls of cheese topping and 2 cherries with some sauce. This made 24 cupcakes with topping and 4 plain brownies. Baked for 22 mins. They were gobbled up! Thanks Bogey's mom for the idea! 4/5/07 - Yummy! It's like a brownie crust cherry cheese cake. Very decadent, rich and tasty. What's not to love --oh yeah the 10 lb. weight gain associated with eating the whole pan! I loved Bogey's Mom idea of baking them in ind. cupcakes but I was too lazy. Will def try that next time. Thanks for posting!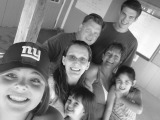 These tasted really great but I had a problem with the brownie cooking fully in the center. The edges of the pan cooked up nicely but I had some runny brownie dough under my cream cheese topping in parts. Next time I might cook the brownies for a bit in the pan, then take out of the oven and add the topping and cook some more to get a more even result. That said, all gobbled up by the folks at work (and I said they were extra "fudgy" to explain the runny texture). Tx!
I made these on 1/22/10 for the " Comfort Cafe Winter Edition 2010 ". I cheated by using a boxed mix for a 9 x 13 inch pan. ( *Parsley*, remember you told me I could ;) ) I followed the part for the cherries and topping to the letter. The bake time was right on the money.And the part about the recipe " jiggling ", was spot on too. I wish that they had been a bit more on the sweet side, that way I wouldn't have been so tempted to eat more than I should have. :) I will make this again.Thank you so much for posting such a wonderful recipe. " Keep Smiling :) "