Prep 1 hr 9 mins
Cook 45 mins
These are a great way to use up different types of chocolate and are delish and very chocolaty! I used the three different types of chocolate listed but in varying amounts - as a way of cleaning out the cupboard. They really need the hour refrigeration though (listed at the end of the recipe). Recipe source: Bon Appetit (December 2006)
8 ounces semisweet chocolate (I used semisweet) or 8 ounces bittersweet chocolate, chopped (I used semisweet)
2 ounces unsweetened chocolate, chopped
3⁄4 cup butter
2 cups sugar
4 eggs
2 teaspoons vanilla
1⁄4 teaspoon salt
1 cup flour
1 cup walnuts (optional)
1 cup semi-sweet chocolate chips
1⁄2 cup whipping cream
Directions
Preheat oven to 350-degrees F.
Spray a 9 x9-inch pan with Pam (cooking spray or grease pan).
In a saucepan over low heat, combine 5 ounces semisweet semisweet chocolate, 3/4 cup butter and unsweetened chocolate, stirring until melted and smooth. Remove from heat.
In a large bowl whisk sugar, eggs, vanilla and salt together.
Stir in chocolate mixture.
Stir in flour, nuts (if using) and chocolate chips.
Pour mixture in prepared pan, spreading evenly.
Bake for 30-40 minutes or until brownies test done when toothpick is inserted in center (the toothpick will be moist with crumbs attached).
While brownies are cooking bring cream to a boil in a small saucepan. Remove from heat and whisk in the remaining 3 ounces semisweet or bittersweet chocolate.
Pour glaze over brownies and chill uncovered for 1 hour.
Most Helpful
this brownies are awesome. my nieces loved them
I put parchment paper on the bottom of my 9 X 9 pan and sprayed with Pam, so we had no problem getting the brownies out. I used 5 ounces of semi-sweet chocolate and 3 ounces of bittersweet chocolate for the main batter. I got down to adding part of the 1 cup of semi-sweet chips to the batter, and the directions didn't specify how much of this 1 cup was stirred into the batter and how much was used for the glaze~so I winged it! I put about 1/3 to 1/2 cup of the chocolate chips into the batter and then about 1/2 cup of the chips into the glaze~that seemed to work fine. I cooked the brownies for 38 minutes and the edges started looking to brown, so took them out of the oven. We chilled them for an hour and had to cut into them for dessert! The brownies were way undercooked in the middle, almost like pudding consistency. We loved them anyway, thus the 5 star review. However, I know some people don't like them this way, so next time I make them, will put them in a bigger pan and I think that will take care of the undercooked middle. Getting to the taste, these are awesome! They are so rich and I think better than brownies that use only cocoa powder. Everyone in our family enjoyed these and I will be making them again~just tweaking the recipe a bit! Thanks so much for these yummy treats, ellie. :-)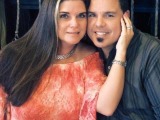 It's hard for me to give this a star rating because I made them to give away and was only able to try 1 little piece. I had to give them in the pan because they were really stuck and I was unable to cut squares out (I did spray the pan). I also messed up in that I added 3oz of unsweetened chocolate because I didn't look closely enough at the ingredients list and assumed the 2nd item was it. Anyhow, from what I could tell the frosting was wonderful but the brownie was kinda cakey not fudgy and looked a lighter brown than I was expecting. Made for Zaar Tag.