PaulaG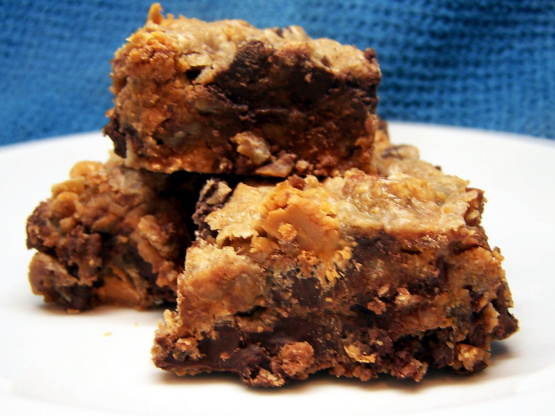 I first used this recipe in 1968, then lost it. I called Nestle Long Distance(before 800 #)& waited until they found the recipe, then dictated it to me over the phone. That long distance bill was not pretty!! The recipe is.

I ADORE you for posting this recipe. I made this as a food gift today to give my friend who simply loves chocolate treats(who doesn't!). I tweaked this recipe and created something your going to adore me for;) I don't quite like butterscotch chips, so I used Hershey's Raspberry chips as a substitute(that I received from New York late yesterday evening - thank you Kree for the sweet gift!) Now, I've used alot of sweetened condensed milk but never used Nestle's chocolate sweetened condensed milk. However, I had 1 can that I'd bought the other day and I was really desperate to put it to use! LOL. I used that instead of the plain sweetened condensed milk, but, the can was 1/4 cup short of 14 oz., so I used 1/4 cup of plain sweetened condensed milk and the rest was ofcourse the chocolate sweetened condensed milk. My home smells even better than the best bakery in my town right now after these squares have been baked and are sitting on the table, cooling down. I couldn't resist myself from tasting a little of this right now, and I did...Oh my! The combination of raspberry chips and semisweet chocolate chips is a divine marriage in food heaven! Trust me - this is SINFUL AND ADDICTIVE! It's going to be hard to part with these squares, but I guess there is nothing like sharing food(and I love doing that)! This is the perfect treat for Valentine's day! I LOVE YOU for posting this!! From the bottom of my heart - Thank you very very very very very much!!!!!!!!!!!!!!!!
1 1⁄2 cups graham cracker crumbs

1

(14 ounce) can condensed milk

6

ounces semisweet chocolate morsels

6

ounces butterscotch chips

1

cup walnuts, chopped
Preheat oven to 350 degrees Fahrenheit.
Mix all ingredients in large bowl.
Pat into 9 inch square pan, either greased wiith butter or sprayed with Butter Flavored Cooking Spray.
Bake@ 350 degrees Fahrenheit for 30-35 minutes.
Cool for at least one hour before cutting into 1 inch squares.