Fudge-Strawberry Cream Torte
lether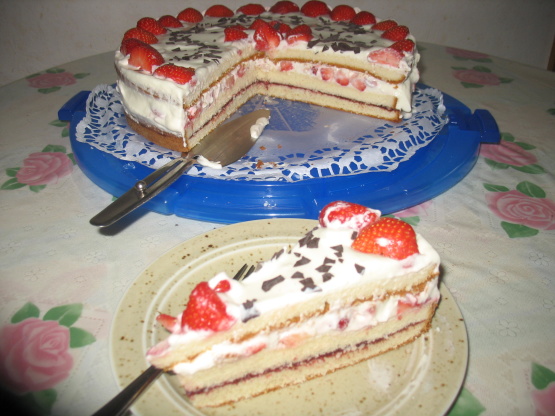 Not only does this look good, the ingredients sound fantastic! Haven't tried this recipe as yet but Rebecca Kremer from Hudson, Wi. has this entered in the Bake-Off 42(Orlando, 2006). Of course, the picture helps too! There is a long laundry list of ingredients but the time consuming process of this is the cooling and chilling time.

This was very rich and very good. It would have been better had I not used overripe strawberries for the filling..That error made the filling 'runny' but it was still very good. Of course it did not make a pretty presentation becoz of the runny filling. Next time I plan to use berries that are not overly ripe. The only changes I made were subbing Splenda for sugar and peanut oil for the veggie oil. Thanx DiScharf for a great recipe. Chef Judi Coleman
Brownie Layer

552.81

g boxpillsbury brownie classics traditional fudge brownie mix

118.29

ml vegetable oil

59.14

ml water

3

eggs

Strawberry Cream

44.37

ml granulated sugar

226.79

g cream cheese, softened

170.09

g yoplait thick & creamy strawberry yogurt

354.88

ml finely chopped fresh strawberries

59.14

ml chopped almonds (optional)

Chocolate Fudge

118.29

ml whipping cream

354.88

ml hersheys semi-sweet chocolate chips (9 oz)

Garnish

4.92

ml powdered sugar

6

medium fresh strawberries, halved
BROWNIES:.
Heat oven to 350°F.
Spray bottoms of 2(9 inch) round cake pans with nonstick cooking spray.*.
Make brownie mix as directed on box for cake-like brownies using oil, water and eggs.
Spread half of the batter evenly in each pan.
Bake 18-23 minutes.
Cool on wire racks 10 minutes.
Run knife around brownie layers to loosen.
Place wire racks upside down over pans; turn racks and pans over.
Remove pans.
Cool completely, about 35 minutes.
STRAWBERRY CREAM:.
Meanwhile, in small bowl, beat granulated sugar and cream cheese and with elecrtic mixer on medium speed until well blended.
Beat in strawberry yogurt until smooth and creamy.
Fold in chopped strawberries very gently, then add in chopped almonds.
Cool completely, about 30 minutes.
CHOCOLATE FUDGE:.
In 1 quart saucepan, heat whipping cream over medium heat, stirring constantly, just until cream begins to boil.
Remove from heat.
Add chcolate chips; press into cream.
Cover; let stand 3 minutes.
Vigrously beat with wire whisk until smooth.
Cool completely, about 30 minutes.
TORTE ASSEMBLY:.
To assemble torte, place 1 brownie layer on serving plate.
Spread half of the strawberry cream evenly over brownie to within 1" of edge.
Carefully spoon and spread half of fudge almost to edge of strawberry cream.
Repeat layers, ending with chocolate fudge.
Arrange halved strawberries in spoke fashion on top of torte.
Refrigerate for at least 1 hour before serving.
Voila - you now have a lovely looking and tasting, I hope, dessert.
To serve,** sprinkle powdered sugar over top of torte and around plate.
Carefully cut torte with hot knife into wedges to avoid "cracking" of chocolate fudge on top.
Store loosley covered in refrigerator.
NOTES:.
*For easy pan removal, line bottoms of pans with waxed paper or parchment paper before spraying with nonstick cooking spray.
**If torte has been stored for 3 hrs before serving, let stand at room temperature 10 minutes before cutting.