Pixie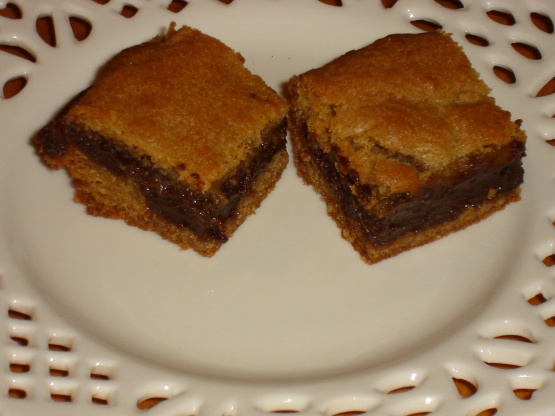 These are absolutely FANTASTIC! The filling is thick, gooey, smooth, and wonderfully chocolatey; the cookie bases are buttery and chewy. They take a few minutes to put together but assembly is easy. They'll go really fast!

Ohhhhh......... I know it says JamesDean'sGirl... but I think you might be the devil, cause these are the most sinful thing I've had in a while! Next time, to compensate for the terrible airbake pan I have, I'll make this at 350 rather than 375. I couldn't let these cool all the way cause that's how I roll ;-) and they are gooey chocolate deliciousness, and way to rich to eat more than a bit at a time. I got 24 bars from this, and even at that, they are almost (almost!) too large for how rich they are. I might cut back a bit on the chocolate chips in the filling next time so there is more blondie around it, but still, fantastic. Thanks for sharing.
Preheat oven to 375°F.
Grease and flour a 9 x 13 baking pan.
In a large bowl, cream together the butter and both sugars until light and fluffy.
Beat in the eggs, then the vanilla until smooth and well blended.
In another bowl, stir together the flour, baking powder, and salt.
Add to the creamed mixture just until combined; do not overmix.
Spread half the batter in the prepared pan.
Stir together the melted chocolate and condensed milk to form a fudge-like mixture; spread in an even layer over the batter.
Cover with the remaining batter.
(The easiest way to do this is to drop little mounds of dough over the filling. Then, using your fingertips, pinch the pieces together until they make a fairly even layer. You won't be able to cover the filling completely--that's okay.) Bake for 25 minutes, or until a toothpick tests done.
Cool on a wire rack before cutting into bars.