seesko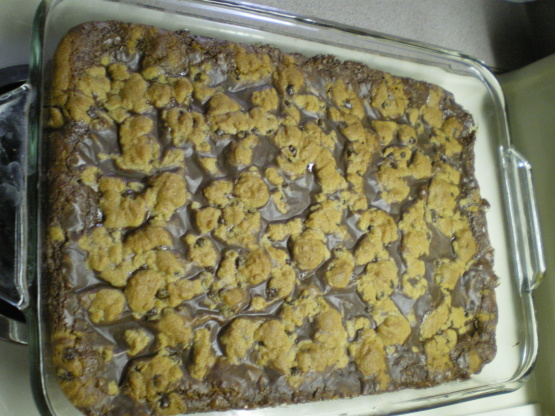 From "All Time Favorite Recipes". For variations, use oatmeal chocolate chip, chocolate chip OR sugar cookie dough.

Top Review by seesko
These turned out great. They were not hard enough for bars. Maybe I needed to cook them longer. However, they were awesome with some ice cream on top. It reminded me of a desert I used to get at Chili's Resteruant. Simply Great. Easy to make. Very rich! A definate for the chocolate lover.
Preheat oven to 350 degrees F.
In heavy saucepan over medium heat, combine milk, chips and butter; heat until chips melt, stirring often.
Remove from heat and stir in vanilla.
Cool 15 minutes.
Wit FLOURED HANDS, press 1/12 packages of cookie dough into ungreased 15x10x1 inch baking pan.
Pour cooled chocolate mixture evenly over dough.
Crumble remaining dough over chocolate mixture.
Bake 25-30 minutes; cool.