Fudge Brownies With Cookie Dough
Easy and delicious. A hit at school functions.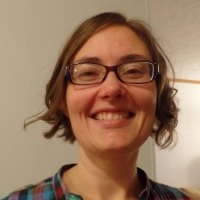 These were a hit after Christmas dinner. I frosted half the pan and opted for an unfrosted piece for myself. It was incredibly rich and delicious! Really, I don't think frosting is necessary at all. I used Tollhouse mini chocolate chip cookie dough and only used 36 of the 40 pieces. It covered most of the brownie. Since I only have a dark, nonstick 9x9 pan, I reduced the oven temp a little to 315. I baked for 25 minutes, placed cookie dough and remaining brownie batter, and then I had to cook it for an additional 40 minutes to get a toothpick to come out clean an inch away from the side of the pan.
Preheat oven to 325°F Butter a 9x9 baking pan.
In microwave, melt butter and baking chocolate until smooth. Stir in eggs one at a time, mixing well. Sift flour over chocolate mixture, and add sugar and vanilla. Stir. Fold in chocolate chips, and pour 2/3 of the mixture into the baking pan. Set remaining 1/3 of batter aside.
Bake for 25 minutes. (Will not be cooked through.) Remove from oven, and carefully drop globs of cookie dough all over hot brownies. Dot cookie dough with remaining brownie batter and return pan to oven. Bake for 20-25 minutes longer, until done. Cool, and cut into bars. Frost with chocolate frosting if desired!