Fruity Whole Wheat Oat Bread
Prep 15 mins
Cook 55 mins
Directions
Preheat oven to 350 degrees F (175 degrees C).
Soak raisin in warm water for 10 minutes.
Grease and flour an 8 1/2 x 4 1/2 inch loaf pan.
In a large bowl, combine flour, baking powder, baking soda, salt, cinnamon, nutmeg, brown sugar,sunflower seeds and oats.
In a smaller bowl mix apple, pear, raisins, eggs, milk, and oil.
Pour in the dry ingredients and mix until dry ingredients are just moistened.
Bake for 55 to 60 minutes, or until done.
Cool on wire rack.
Most Helpful
I just loved this recipe. I did not have a pear so I used one apple and about 3/4 cup of applesauce in its place. Also used some currants along with the raisins in the batter, and sprinkled some extra sunflower seeds, raisins, and currants into the top of the bread. This one's a keeper, in fact I'm making it again this afternoon! Thank you, Manuela. :)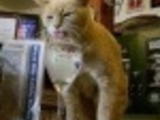 Wonderful...Good texture...Fruity flavor...Not too sweet...