Fruity Spritz Cookies made with Jell-O
Karen..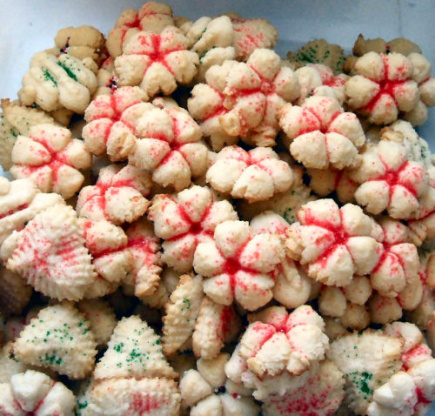 This recipe came from a magazine page in Good Housekeeping, and I remember making them in the early '80's with my mom, so this recipe is at least that old. I've made this with several different Jell-o flavors and they've all been good. If you have trouble handling the dough in the cookie press chill it a bit.
Sift flour with baking powder.
Cream butter.
Gradually add sugar and gelatin, cream well after each addition.
Add egg and vanilla; beat well.
Gradually add flour mixture, mixing after each addition until smooth.
Use cookie press to process dough, droping onto ungreased baking sheets.
Sprinkle with Jell-o or decorate as desired.
Bake at 400 degrees, about 13 or 14 minutes, or until golden brown at edges.
This can vary depending on your oven, in mine these will be done in about 6-8 minutes- to be sure keep an eye on the first sheet to go in so they don't burn.
Store in loosely covered container.
Makes about 5 dozen cookies.