Fruity-nutty Spinach Salad
Bobtail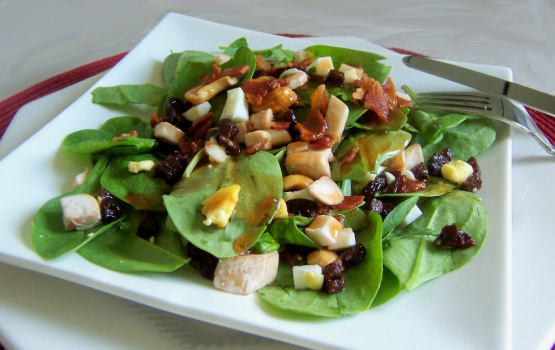 Sweet, salty, crunchy, tender - this salad has it all. You can use real bacon, or like me, artificial bits and a dash of Liquid Smoke; I've included both alternatives. The pepper jelly in the dressing isn't hot, it just adds that rich pepper taste. A delicious salad! Serving amount is for salad eaten as a main dish. I've added cooking time for the bacon and hard-cooked eggs, if you don't already have them laying around to use.

Absolutely delicious! Toasted the pecans, used half the amount of oil called for, and omitted bacon grease in dressing. Dressing is really different but so wonderful. Loved the spicy, sweet balsamic combination. Lots of textures, colors, and flavors in the salad. Thanks for sharing the recipe!
Combine all salad ingredients and set aside.
Briskly whisk together all dressing ingredients.
Add more oil if needed, but I prefer this amount.
Thoroughly combine dressing and salad, using as much dressing as you prefer.