llk2day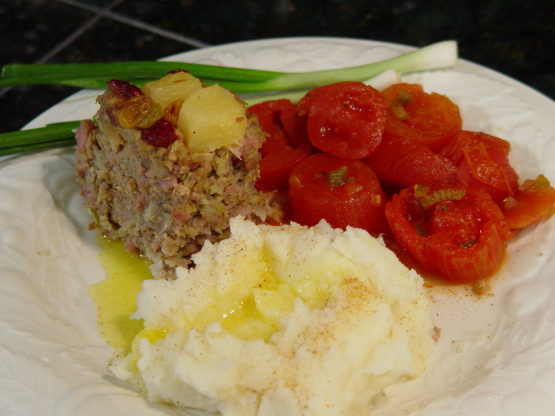 If you have a lot of leftover ham, this is an excellent thing to do with it. In fact, it's worth getting ham just to make it. Not your usual meatloaf.
Hello Jenny, Today I made your recipe and it turned out beautiful! I used leftover ham as you suggested and followed your recipe except I did add more bread since it seemed a bit loose and I was afraid it would fall apart. I also added one TBS of sweetened dried Cranberry's in with the raisins for color and additional fruit flavor. This meatloaf is execptional and a nice change from traditional meatloaf, It's a keeper for me!!
Preheat the oven to 350°F.
Melt the fat in a 9"x5" loaf pan.
Sprinkle the sugar evenly over the bottom, and lay the pineapple slices, cut in half or quarters if need be, in a nice pattern on the bottom.
Fill holes with raisins.
Mix the remaining ingredients, and press the mixture over the pineapple.
Bake for 1 hour& 15 minutes.
Remove the meatloaf from the oven, and let it stand 5 minutes.
Invert it onto serving platter, wait a few seconds, then remove the pan and serve.